E-Mail: bthomas@valu-line.com
Company: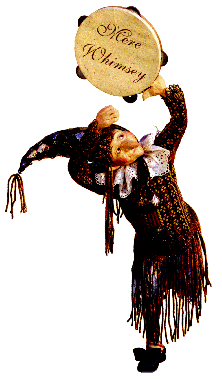 http://www.valu-line.net/~bthomas
Location:Emporia, Kansas
Birthdate:February 24
Family Info: One domesticated husband, ten (yes, folks! count 'em, ten) cats, two dogs and any wildlife I can keep in the yard long enough to attach names to.
Medium: Layered paper, paper mache/clay and polymer
Type/Style of Work: Whatever strikes my whimsey (hence the name). Most often fey folk and nature oriented creatures, but you never know.
How Long: Since 1993 (officially)
Professional Credits: Approximately forty shows, a dozen awards, three memberships (MCODA-Midwest Coalition of Original Doll Artists, ODACA-Original Doll Artists Council of America, and AADA-Academy of American Doll Artists).
Education: (neverending) concentrated in art and creative writing.
Comments: Don't get me started!
Return to Dollmakers Bios main page.

to Mann Gallery - the Art of the Doll