E-mail: karan@netdotcom.com
Business Name: Karan Schneider Collection - Original Art Dolls & Authentic Automata
http://members.tripod.com/~KaransDolls/
Location: 339 Trumbull Drive Niles, Ohio 44446
Date of Birth: 1/16/62
Family: Married 15 years with three children
Type/Style of Work: One-of a kind art dolls, authentic automata-- Only Reuge music boxes are used in the automata. I love to make Lady Dolls.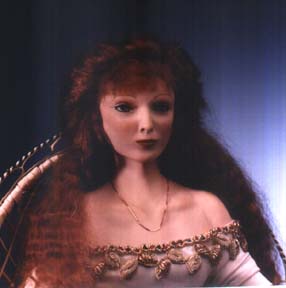 Comments: I started in the late 1980's with santas and just slowly progressed into ther works, all the while my automata "love" kept ahold of me and now I enjoy making them work like the ones of the Golden Age.
Dollmaking is a passion for some and a job for others ---look at the piece and see the personality come alive, as if it were going to move and tell you about themselves---even if dollmaking is the livelihood for some people...it can also be teier passion, and it will show in their work. It becomes a job when the doll has no life beyond just seeing it sit there.
Return to Dollmakers Bios main page.