E-mail: lyale@hotmail.com
http://www.geocities.com/SoHo/Atrium/5929
Business Name: Yale Creations
Location: 16123 Watt Way, Ramona, CA 92065 phone is 760-789-6255
Type/Style of work: Soft Sculptured one of a Kind figures
Length of Time: I've been making soft sculptured figures since 1989, so 10 years now.
Professional Credits: I have been in Cloth Doll magazine, Contemporary Doll Collector several times (Gallery, Debut), Soft Doll and Animals Magazine. I was on the cover of Artists and Activists Quarterly, and cover of the Borrego Sun newspaper. I won the Viewers's Choice award in the Dimensions in Dollmaking show at the San Diego Convention center the past two years ( there were several picked)
I was in DOLL CRAFTER magazine, a profile in the May, 1996 issue. I had a chef in DOLL magazine in Nov., 1997 issue. When I was first starting in soft sculpture I won several awards in the Del Mar Fair, for several years, what fun!

A.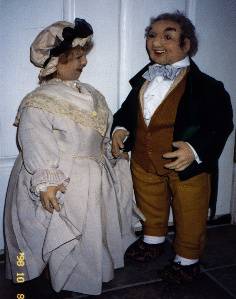 B.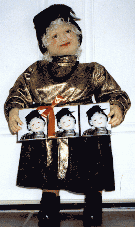 A. Merrie Old Couple B. Grandma's gift

Comments: I look back on some of my work and think wow, I've improved. I hope I keep improving.

Return to Dollmakers Bios main page.