E-Mail Address: LyndaStr@aol.com
Company Name: Struble Studios
Location: Southfield, Michigan , USA
Birthday: February 22
Family information: Married, with two sons, 23 and 20 and a step-daughter 12

Media used: Fimo

Type/style of dolls: Faeries, poseable and marionettes

Length of time in dollmaking: six years

Professional Credits: Selling to Art and Doll Galleries, and have done one person show and exhibits,the best one being a six-week show at a gallery exhibiting faerie life with a complete village.

Comments on your dollmaking: I absolutely enjoy what I do and find that working with the faerie subject matter has expanded my imagination immensely. My greatest joy has been to pass the imagination on to the people that come into contact with my work and I love to watch it make them smile.

Mommy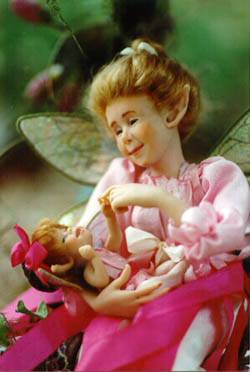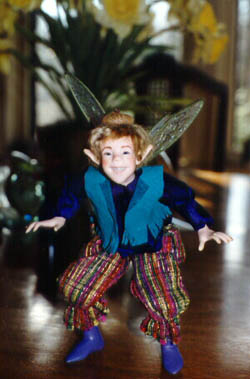 Fairy Boy
Return to Dollmakers Bios main page.